After a phone call from the minister of the interior of Berlin, the artistic director of the Deutsche Oper in Berlin, Kirsten Harms, canceled four performances of Mozart's Idomeneo. According to tagesschau.de the minister speaks of an "incalculable threat" for audiences and members of the staff. Apparently the minister informed her of an anonymous hint that the production will cause hostile and violent reactions among Islamists. The production by Hans Neuenfels features a scene in which Idomeneo displays the cut-off heads of Poseidon, Buddha, Jesus, and Mohammed. This is a picture of the scene in question, taken during rehearsals in 2003. I took this image from tagesschau.de: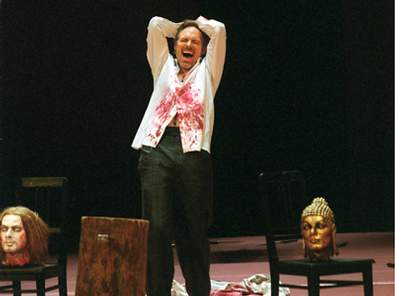 While it is certainly possible to dispute scenes like this on dramatic, aesthetic, moral, and religious grounds, I strongly oppose making any concessions to those who prefer to enforce their views by threatening and terrorizing their fellow human beings. There are many ways to show your discontent: you can not buy a ticket, you can criticize, or you can just wait until the new government of Berlin will close down the Deutsche Oper sometime soon.
PS: This story gets better and better. I just came about an article in the Frankfurter Allgemeine Zeitung revealing that the Deutsche Oper tried to cancel the shows clandestinely! Evidently they also sent out press releases urging the journalists to not spread these news. Here is the story (in German).