By Emily Abrams Ansari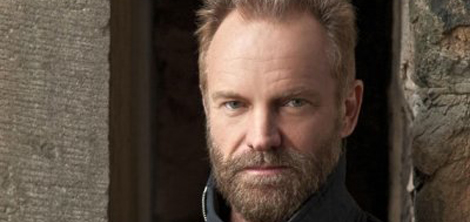 I like to think of myself as open-minded, musically speaking. But I am quite enough of a musical snob to have never attended an orchestral "pops" concert. So imagine my mixed feelings when the offer to see Sting, one of the century's musical superstars, in concert with the pops wing of the Royal Philharmonic came my way. Would it be pure unbridled kitsch or an inspiring and creative fusion of styles? Would it profoundly upset my musical sensibilities to see a miked, funked up symphony orchestra performing in a hockey arena? Or would it open my mind to a whole new world of possibilities for this incessantly "dying" ensemble?
The opening minutes I feared the worst, with all my anxieties focused on the conductor. There is simply nothing more painful than watching classical musicians trying to be hip, and this one was going at it full pelt. His third beats looked like Rafael Nadal taking a backhand, with musical gestures simply hurled across the orchestra. Significant downbeats, meanwhile, were mostly accompanied with an ecstatic leap in the air. And all against a backdrop of swaying, jerking, and gyrating unbecoming a conductor. How on earth does one conduct with panache a man as effortlessly stylish as Sting? I have no idea.
Thankfully, however, I slowly managed to avert my gaze and take in what was going on around this wildly dancing animal. Sting's voice remains as pure and strong as ever and with some first-rate assistance, I assume, he has produced a bevy of spectacular orchestrations of his best-loved songs for this tour. "Russians" was perhaps the finest for sheer orchestrational spectacle. Beginning with an orchestral introduction featuring some entirely new, glorious, and noisy Russian-style bombast, the rather puny synthesized Prokofiev quote from the original song was then blown up into something approximating the original. To hear an orchestra playing Lieutenant Kije at full volume (and miked) with drums, guitars—the works—was truly a thrill. The audience of aging couples was cheering fit to bust. All in all, this very youthful orchestra did a first rate job with a challenging three hours of highly imaginative, harmonically and rhythmically complex orchestrations, which also featured a number of stunning solos.
Ultimately, I was entirely sold on this fantastic ensemble of diverse musical talent. During the interval the conductor took off his tails and switched into a simpler jacket, a wardrobe change that certainly helped de-classicize him a little, and I found myself increasingly charmed by his leaping, frisbee-throwing, spell-casting moves. Who doesn't love a bit of musical enthusiasm anyway?
Sting has been exploring all kinds of new musical directions these last few years with varying degrees of success, some of which have been reviewed on Zeitschichten as well. Here, though, he has hit on a winning formula—one which he did not invent, but which he has brought to new heights.