For the second of our interviews in the 'Music and Muses' series, German thereminist Carolina Eyck talks about her passion for improvising and what making music can mean to an artist and a composer.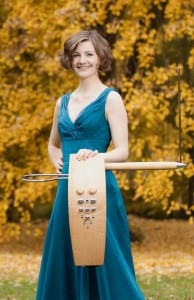 Despite being a viola player and a composer, you are most well-known for being a theremin virtuoso. What first attracted you to the instrument?
I've been playing the instrument since the early age of 7, so I can hardly remember what I actually really thought about the theremin back then. But I remember very well that I have always been fascinated with being able to produce sounds just by slightly lifting a finger in the air, like a mystic figure in a tale.
It is not that easy, of course, to make music out of this 'fingerplay', but it has always been somehow like that – fingerplay, refined by hard work.  
Do you prefer playing on your own or with a group of musicians? Why?
Actually, I like both! But playing with others is maybe even more attractive to me than playing on my own, especially when we play in a jazz-style. I love interacting with improvisation, the invention of sounds, or better to say, the rising up of sound ideas that have to be discovered and processed at once. It gives me a feeling of satisfaction and curiosity when the unexpected is just a few moments away.
On the other hand, playing on my own means complete freedom to me in a way that I can't have with others – from time to time it can be a very meditative way to explore new borders.
The theremin is still quite a new and unusual instrument in the music world, and not as popular with beginners as many more traditional instruments. Do you think that the instrument will get more popular with time?
Yes, I am sure it will. There are of course other 'new' instruments like the accordion that were widely disseminated in a much shorter period of time compared to the theremin. The most important reason for this is the similarity of these instruments to older ones – the accordion, for example, can be seen as a very special kind of piano. By contrast, the theremin really is a completely new instrument that still has to be explored.
There are more and more composers and conductors that are interested in taking part in this exploration process, getting familiar with the theremin, and the number of pieces or even symphonies written for the theremin is steadily increasing. This year, for instance, I took part in three wonderful world premieres: the symphonies 'Mesopotamia' and 'Universe' by the Turkish composer Fazil Say, and the Theremin Concerto 'Eight Seasons' by the Finnish composer Kalevi Aho.
The reactions to my first method book, The Art of Playing the Theremin, also indicate a rising interest in the instrument. I hope that I will be able to boost this effect with a revised and extended version of my book that will be published hopefully next year.
With reference to your method book, the first of its kind to completely outline a theremin technique, do you think that studying technique is essential to being a good musician, or can expression ever be enough on its own?
There is no music without expression. Expression is actually an essential condition for every kind of art. Technique, on the other hand, does not seem to be necessary to the same degree. But without technique sooner or later you will inevitably reach a point where further development, exploration and innovation are no longer possible. A solid technique can therefore be compared to the solid foundation of a building: it is not really necessary at first glance, but very soon you will ascertain beyond doubt that because of it, you have the ability to upgrade your 'house' whenever you want to do so. For me, this ability is a vital feature of my creative work.
You studied with Lydia Kavina, the grand-niece of Leon Theremin. Do you think studying with a direct descendant of your instrument's creator gave you any inspiration or deeper insight into interpretation?
I owe a lot to Lydia Kavina as she was the only one of my teachers who already had advanced skills in playing the theremin. Although we met maybe only once a year, she always helped me to improve my skills substantially. My other teachers were my parents, who helped me a lot in the first several years, and from the age of maybe 13 or 14, I started to develop my own style of playing the theremin. They all influenced my way of playing and interpreting the music.
I thoroughly enjoyed the YouTube video of you playing a transcription of Fauré's 'Après un rêve'. Do you think that music is something that should always be transferable from one instrument to another, or are there some pieces that should only be played on the instrument that the composer intended?
This, I think, depends on the piece. The basic ideas of a composer are always deeply connected with his choice of instruments, of course. And this year I had a lot of opportunities to experience the special intensity of pieces that were really written for theremin. But, somehow, there are pieces of universal beauty, like 'Après un rêve', that can be played on every instrument. There is a German saying 'Einen schönen Menschen kann nichts entstellen' ('Beautiful people can get away with anything'); this applies to some pieces also.
For you, as a virtuoso on an electronic instrument, what defines an instrument? When does a musical instrument just become a machine?
The difference between a machine and an instrument is that an instrument still has to be played by someone. If something is producing music by itself, it is a machine.
Lastly, instruments tend to change and improve over time as they become older. If you could make any changes to the theremin, either for serious artistic reasons or just for fun, what would you change and why?
Most actual theremins have some weak points. Among them is a restricted playing range, unequal tone spacing, sensitivity to external RF interference from other electronic circuits nearby, temperature sensitivity, technically limited expressivity or simply the weight and dimensions which can be crucial for the frequently traveling professional thereminist. The main cause might be that many of the existing instruments have been designed by excellent engineers who did not have the sufficient musical skills needed for understanding the professional musician's point of view. That's why I decided to initiate a collaboration with the French-German theremin expert Thierry Frenkel in order to develop a series of instruments which will be significantly improved compared to those actually on the market. While the solution for all problems cited above will still require much research and development time, the first prototyping results are very promising: a new technology, never used in theremins up to now, gives a much more sophisticated volume response and range of expression in conjunction with considerably reduced sensitivity to interference, while the use of an optimized classic oscillator structure on the pitch side will greatly reduce temperature and stability problems and give the player a vast and homogenous playing field. A first public release of the standard model is planned for 2013 while the professional variant will follow later.
To find out more about Carolina and her work, visit her website at www.carolinaeyck.com/.